Our Favorite Homeschooling High School Curriculum Picks
Had you asked me nine years ago if we planned to homeschool all the way through high school I would have probably said no? When we started out on this journey, I honestly had no intention of taking the whole thing that far. The idea of pulling my son out of 4th grade was crazy enough. Teaching high school? Ha! Yeah, right. But, then homeschooling middle school came and went and high school didn't seem so scary anymore. I learned quickly that homeschooling was nothing like what I thought it was going to be and one of the biggest misconceptions I had was that homeschooling high school would be impossible.
I was so wrong!
That sweet 4th grader just graduated high school last spring. He walked of this journey a homeschool graduate and scholarship recipient, with one year of college under his belt thanks to dual-enrollment.
He's officially a full-time college student now and finishing up his two-year degree at our local state college with plans for university dorm life next fall. I cannot express how proud I am of him.
Homeschooling high school is possible!
I spent a lot of time this summer decluttering our homeschool stash and getting rid of what we just don't need anymore. It was bittersweet sifting through all the work samples, notebooks, and folders. Nine years of work flashed back at me as I flipped through dusty three-ring binders.
Homeschooling high school was probably one of my favorite parts on this journey so far. I loved homeschooling high school and you will too!
I thought it would be fun to share some of our favorite homeschooling high school curriculum picks with you. This isn't everything we used, but definitely some of our faves.
Grammar and Writing
Easy Grammar Plus and Easy Grammar (by grade level)
We used Easy Grammar plus in 7th and 8th grade and liked it. I just kept using Easy Grammar by grade level for the rest of high school.
One of my all-time favorite things my son ever wrote was a long paragraph he wrote during one of the lessons in Write Shop I. He blew me away by how well he could use colorful, descriptive words like a pro just by working through some of the beginning lessons in the book. Write Shop I & II are designed for 6th-10th graders and an excellent choice for middle and high school writing. It was a great tool to help my son build a foundation for heavier writing. I actually like Write Shop so much I'm using it again with my 7th grader this year.
The Power in Your Hands: Writing Nonfiction in High School
I cannot say enough good things about this book. My son learned so much about nonfiction writing from this text. We actually used this book in a co-op writing class I taught with six other high schoolers. I use the term "taught" loosely. We met for an hour each Monday and the kids would work through the workbook and essays during the week. Every single parent came up to me and told me at some point how much their child was learning from the class, but all I ever really did was facilitate discussion and work through this text right along with them.
Literature
We mostly used literature study guides by Progeny Press. Not exactly fancy literature study, but they worked! I liked these because I felt confident the study guides were thorough in what they covered, yet they allowed my son to work through them independently. He'd read the books and then work through the study guide. They're perfect for completing one each quarter.
Wordly Wise 3000 Student Book 11, 3rd Edition
Vocabulary is so important for testing. I required vocabulary through 10th grade. In 11th and 12th grade he took Latin, so I wasn't about to make him complete a vocab workbook then! I'd like to think that all those years he pushed through these workbooks helped him rock his SAT score last year.
From the book description:
Three thousand carefully selected words taken from literature, textbooks, and SAT-prep books form the backbone of this vocabulary series. Each lesson begins with a Word List that includes pronunciations, parts of speech, and concise definitions, and uses each word in an interesting, contextual, sentence.
Algebra I
I taught math through Algebra I. After that I signed him up for online math classes. Up to that point, we used Math-U-See. I like the multi-sensory approach MUS offers in the younger years and the format continued to work for my son through ninth grade (Algebra I).
Science
My son was the kind of science student that I could say, "Here. Read this book and take these tests." and he'd actually do it, retain what he learned, and go on to excel in college science courses afterward. I cannot take credit for this. God made him this way.
I can't teach biology and chemistry! But I learned quickly how well homeschooled kids teach themselves. High school was certainly no exception. I got a microscope, supplied dead animals to dissect, and nagged him to finish his work.
He used both of these texts for 9th and 10th grade and then went on to dual enroll taking college biology and rockin' an A in that class, so kudos to Apologia for teaching my kid advanced science.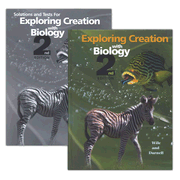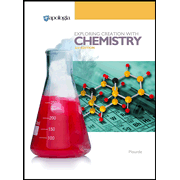 This was an excellent read! My son became an expert while taking an economics class at co-op his 9th-grade year. They read this book along with their studies and he absolutely loved it. I actually have this one saved for my youngest to read soon.
From the publisher:
Using the epistolary style of writing (using letters to tell a story), author Richard J. Maybury plays the part of an economist (Uncle Eric) writing a series of letters to his niece or nephew (Chris). Using stories and examples (including historical events from Ancient Rome), Mr. Maybury explains economic principles, giving interesting and clear explanations of topics that are generally thought to be too difficult for anyone but experts.
Personal Finance
Foundations in Personal Finance: Home School Student Text (New Edition) By Dave Ramsey / Lampo Group, Inc.
Oh, Dave. How you challenge me!
If I am able to pass on 1/8 of the financial principles this guy has down to my kids, I'll be a happy parent.
This was an excellent DVD course and it is very easy to do with a small group or co-op class. Each student just needs their own student workbook.
This was an excellent DVD course and it is very easy to do with a small group or co-op class. Each student just needs their own student workbook.
Are you homeschooling high school?
What are some of your favorite curriclum picks?